I'm sure everyone's heard of them, online paid surveys. There are tons of different sites out there, I've tried about 10 different ones myself in the past year. Some sites offer cash for completing surveys, others offer points that can be converted into rewards or cash. The majority of the sites will send you surveys to be completed or alert you when there is a survey opportunity.
The frequency of surveys can be anywhere from 1-20 a month in my experience. Some surveys pay well, others pay alright but this is generally reflected in the time it takes you to complete the survey.
Right now I use 4 sites frequently and over the past year have made an average of $60 a month + a sweepstakes win from NPD. This is a nice way to earn some extra cash, just by doing some short surveys a few times a month. I usually find myself on the computer for a couple of hours everyday so I have no problem with spending a few minutes reading some questions and clicking my mouse. And of course the survey sites are all free to sign up for!
Plus, when I receive a survey check in the mail, I put away that money into a vacation fund along with money I receive from bottle deposits. This way, I can take a vacation without having to feel guilty about dipping into my personal savings fund.
I've gone through these survey websites with a friend of mine, who does even more surveys and earns more money monthly than I do and reworked the ranking accordingly (for those of you wondering why it was a little different when I initially posted)  So, onto the survey websites!
Extreme Couponing Canada survey pick #1: Toluna Canada

Toluna is a survey company that I enjoy working with. You can exchange your points for cash through paypal, which I much prefer over receiving cheques. They require a little more information than the other survey sites upon sign up, but they're quick and easy questions.
At Toluna you earn points for completing surveys, between 3000 and 15000 ($1- $5) and can cash in 60,000 points for $20 Paypal money. The reason Toluna is my #1 pick is that they pay through paypal and they send surveys everyday and you can also participate in polls to earn extra points. The polls only take a few seconds and you can often earn around 50 points a poll which quickly adds up! You can also cash in points for sweepstakes entries but I prefer to save them for Paypal cash.
A neat aspect to Toluna's site is that they sometimes offer free product testing. You just need to write a review of the product on their site and you usually get to keep the item, unless it's a high priced ticket item, then you'll most likely have to send it back.
Surveys on Toluna are fair in length at about 15 minutes. I get 1-2 survey invites a week with them so I cash out every 1.5-2 months approximately. If they offered more surveys they would likely be my favorite survey site, but I still like Toluna because of their paypal option!
Click here to join Toluna Canada.
Extreme Couponing Canada survey pick #2: Opinion Outpost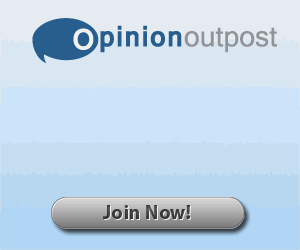 Opinion Outpost is one of my favorite paid survey websites because they send surveys quite frequently and have the lowest payout minimum at $5. This is their biggest selling point for me. You fill out a profile once you sign up for the site and they send you survey invites based on surveys you qualify for according to your profile. The surveys are pretty standard and take 15-20 minutes to complete on average.
They pay between $1 – $10 a survey, and although higher paying surveys do not come around as often, you can expect to see at least one every 2 months. I get 3 or 4 survey invites a week.
As I mentioned, the payout minimum is 50 points which will get you either a $5 amazon gift card or a $5 donation to the red cross. If you would like to cash out for a cheque you need 200 points which will give you $20. This is the option I always go with. I like Opinion Outpost because I find that their site is reliable and consistent with the surveys they send, unlike some of the other websites I've tried which send surveys in the beginning but die out after a few months. I also get paid the most frequently with Opinion Outpost since their payout minimum is the lowest!
Click here to join Opinion Outpost.
Extreme Couponing Canada survey pick #3: Global test market

Global Test Market has been around since 1999 and are one of the larger paid survey companies. They are extremely reliable and I have never had any problems with getting paid once I reach the payment threshold. Some companies require a lot of back and forth emailing to request payment, but Global Test Market pays everyone promptly and has good customer feedback time. I've had to contact them with questions a couple times and received very quick responses.
Like all other survey sites, you complete a profile once you sign up and receive survey invites based on your answers. The more honestly you fill out your profile, the higher the chances that you will qualify and not waste your time. Since Global Test Market sends me surveys less often, I complete them all, which is also supposed to increase your chances of receiving more survey invites!
The minimum payout is 1000 points which gives you $50. Most surveys I have completed are between 30-50 points ($1.50- $2.50), but I have had a few that were 100 points ($5) as well.  I'm able to cash out every 2-3 months and getting that $50 cheque is a nice treat when it comes!
Click here to join Global Test market.
Extreme Couponing Canada survey pick #4: NPD Online Surveys Canada

NPD online research is a completely different type of survey company then the first 3 that I listed. They do not offer very many cash incentives for completing surveys although a few times there are. They are more interested in changing the way products are marketed. Their surveys are short and fun to do though.
If you enjoy doing surveys and voicing your opinions to companies, this is a great website for you. NPD represents over 1600 businesses, including many fortune 500 companies. I like NPD because they do not try to deceive you in anyway. They do not lead you to believe you will make money off of their surveys, but that being said, they do have sweepstakes drawings where you can win cash for completing surveys.
I don't use NPD very often, and probably would not have included them in the list if it weren't for the fact that I won one of their sweepstake drawings! I won $100 from the site, and saw my name on the list of winners they publish, so I know that the drawings are legitimate and you can win! I do maybe 3-4 surveys a month with NPD, although there are many opportunities. I just pick and choose the ones that look interesting. I also received a $5 cheque from them a few months back, which must have been for a survey but i was not informed that it was a paid survey, so that was a nice surprise!
Click here to join NPD online research.
Read More
During the past few months I've been trying out some new paid survey websites in an effort to increase my earnings and make money online. If you've read over my previous paid survey post, you'll know that I save up all the money I earn from paid surveys and put it into a vacation fund!
I consider paid survey earnings as extra income that I can spend at leisure without feeling guilty. It's a great way to earn those extra dollars for something you wouldn't normally save for in your budget.
Plus, online surveys offer flexibility for busy schedules as you can choose when to sit down and spend time doing it. All the websites I use are free to join!
Descriptions below:
My Survey

My Survey is another website I've started with recently. A big reason they've become one of my favorites is below of the low payout threshold. Like most survey sites, you collect points. Each regular survey will give you 200-500 points and the lowest threshold prize is 500 points for 10 airmiles!
During the first month of trying My Survey out I also received two high valued surveys, one at 800 points and one at 900 points. If you prefer cheque payments over gift cards, the minimum is 1000 points for a $10 cheque. There are also gift card options for retailers like Best Buy, Canadian Tire and Petro.
A great thing about My Survey is that you get points for completing the qualifying questions for surveys. Most online survey websites do not give you points for this. Although it's only 10 points most of the time, it's nice that you get something for your time as you need to complete the qualifying questions to get to the main survey anyway. And who knows, you might get lucky with a 1,000 point ($10) survey!
Click here to check out My Survey
Survey Lion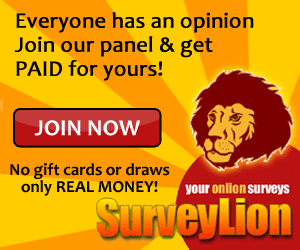 Survey Lion is a Canadian Viewpoint market research company. Their surveys are average length and worth anywhere between $1 and $10. You can request payment at anytime which will be mailed to you by check. One of the best selling points on this particular website is the absence of a minimum account balance before cashing out
The surveys conducted are more widespread in different industries than most survey companies. Compensation is paid out in cash, gift certificates or even freebies depending on the type of survey. Most surveys do pay by cash.
Similar to most survey websites, the more surveys you attempt, the more will be sent out!
Click here to join Survey Lion
Read More