Make Money Online with Paid Surveys – Part 2
During the past few months I've been trying out some new paid survey websites in an effort to increase my earnings and make money online. If you've read over my previous paid survey post, you'll know that I save up all the money I earn from paid surveys and put it into a vacation fund!
I consider paid survey earnings as extra income that I can spend at leisure without feeling guilty. It's a great way to earn those extra dollars for something you wouldn't normally save for in your budget.
Plus, online surveys offer flexibility for busy schedules as you can choose when to sit down and spend time doing it. All the websites I use are free to join!
Descriptions below:
My Survey

My Survey is another website I've started with recently. A big reason they've become one of my favorites is below of the low payout threshold. Like most survey sites, you collect points. Each regular survey will give you 200-500 points and the lowest threshold prize is 500 points for 10 airmiles!
During the first month of trying My Survey out I also received two high valued surveys, one at 800 points and one at 900 points. If you prefer cheque payments over gift cards, the minimum is 1000 points for a $10 cheque. There are also gift card options for retailers like Best Buy, Canadian Tire and Petro.
A great thing about My Survey is that you get points for completing the qualifying questions for surveys. Most online survey websites do not give you points for this. Although it's only 10 points most of the time, it's nice that you get something for your time as you need to complete the qualifying questions to get to the main survey anyway. And who knows, you might get lucky with a 1,000 point ($10) survey!
Click here to check out My Survey
Survey Lion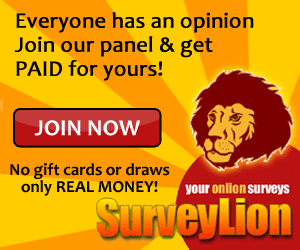 Survey Lion is a Canadian Viewpoint market research company. Their surveys are average length and worth anywhere between $1 and $10. You can request payment at anytime which will be mailed to you by check. One of the best selling points on this particular website is the absence of a minimum account balance before cashing out
The surveys conducted are more widespread in different industries than most survey companies. Compensation is paid out in cash, gift certificates or even freebies depending on the type of survey. Most surveys do pay by cash.
Similar to most survey websites, the more surveys you attempt, the more will be sent out!